Lady Blaga is changing her format this week‼️ Still on a sugar high from the fantabulous NYC Fashion Week, it's my utmost joy to present you with my take on the events I was thrilled to attend. The vibe and mood of FW is everything you'd imagine it to be. I felt like I was on Sex and the City. This is the stuff of NYC dreams. It's why people move here. The creativity, boldness, ideas, originality, fun, and fearless fashion front runners. The weather was consistently picturesque, which helps everyone's mood🌞🌞🌞. Men in skirts and dresses, wild headpieces, drag queens, anorexic fashionistas posing with ice cream cones they're pretending to eat, heiresses who clearly brought their own photographers, babies as accessories; anything went!
To kick off my fun at NYCFW, I needed the perfect statement outfit. My choice was met with quite a reaction. The focal point was this custom, wildly emoji embellished denim jacket. This was a gift from Tzvia, a surprise. I was floored. I'm not used to getting surprises from others, I usually give them. I was so moved by how much thought and love was put into this. On the back it says "The Real Lady Blaga". Imposters; stand down! This jacket is strong, it needed accessories to the max. Oh, wait, I think I bought a hat with cat ears many years ago. Done! Scratching and clawing my way through Fashion Week. After all, men are dogs and women are cats. That's not derogatory, justmVenus Mars thing. All good. The right under-pieces were needed to anchor the look, but yet hold their own despite the outer wackiness. Norma Kamali to the rescue, as per usual. This looked like a jumpsuit but is two separate pieces. It's a bathing suit really. I wear it as a bodysuit. The studded leggings are from the same line, all of Norma's pieces work together. I legit felt like Sandy from the last scene in Grease, after she's transformed herself and busts into that carnival like an Australian gangster. Btw, my daughter is a high school senior. Those actors playing seniors at Rydell High were minimally 45 years old. So what? Neon pink long gloves and neon Marc Jacobs pumps popped my limbs even more. High wattage accessories are a must. I felt like a true Fashion Week player in this outfit. I felt like I belonged. You know what? Damn right I did.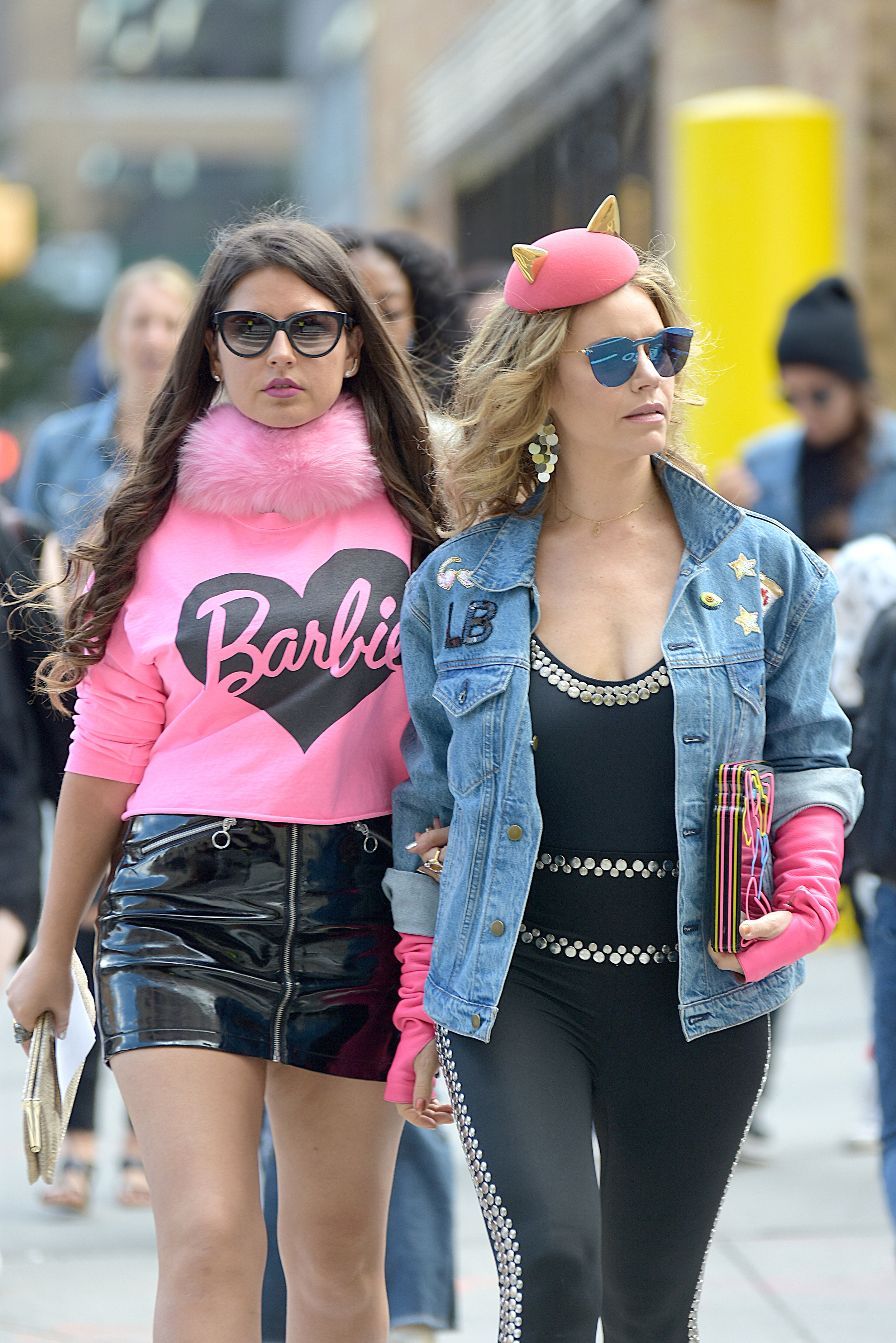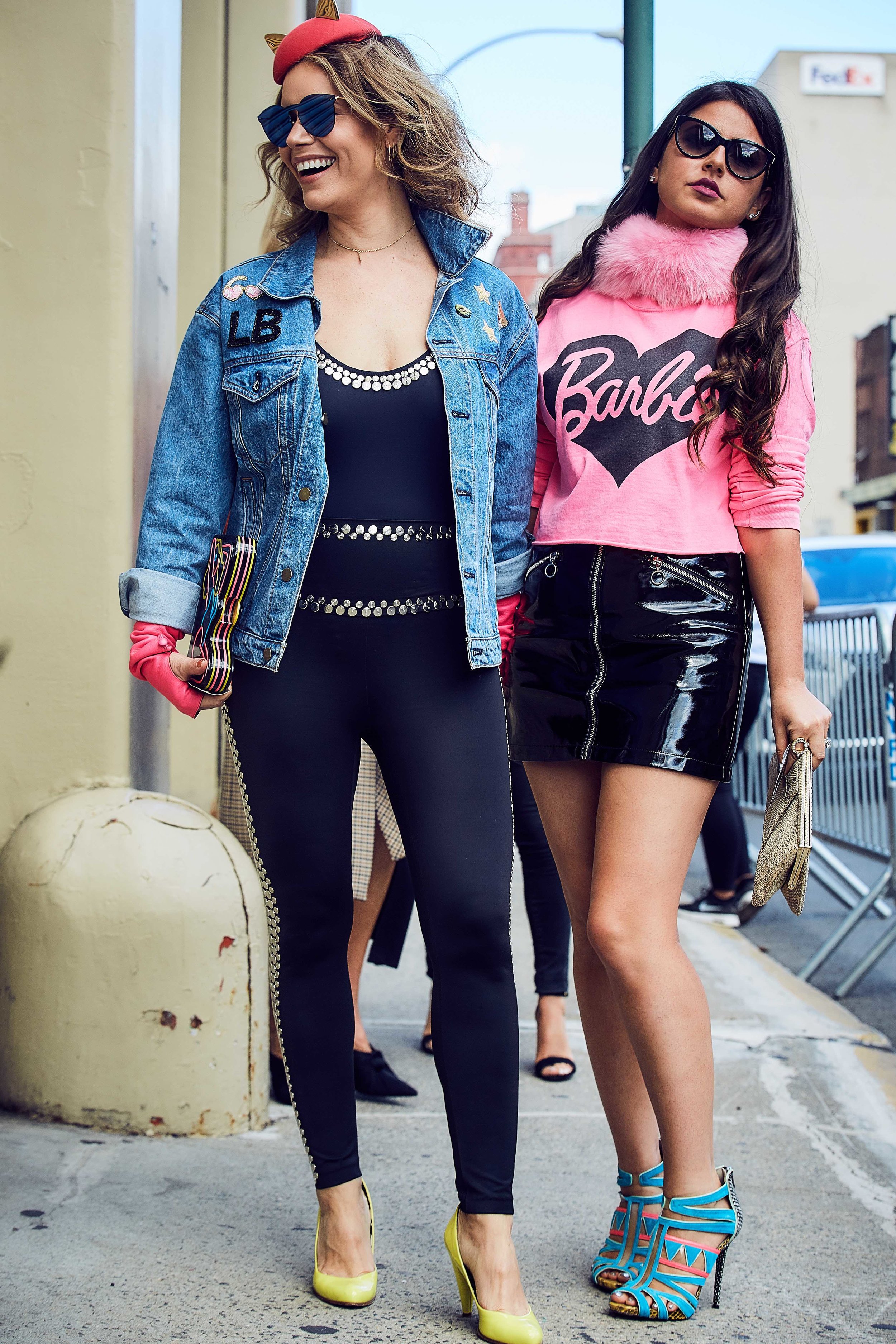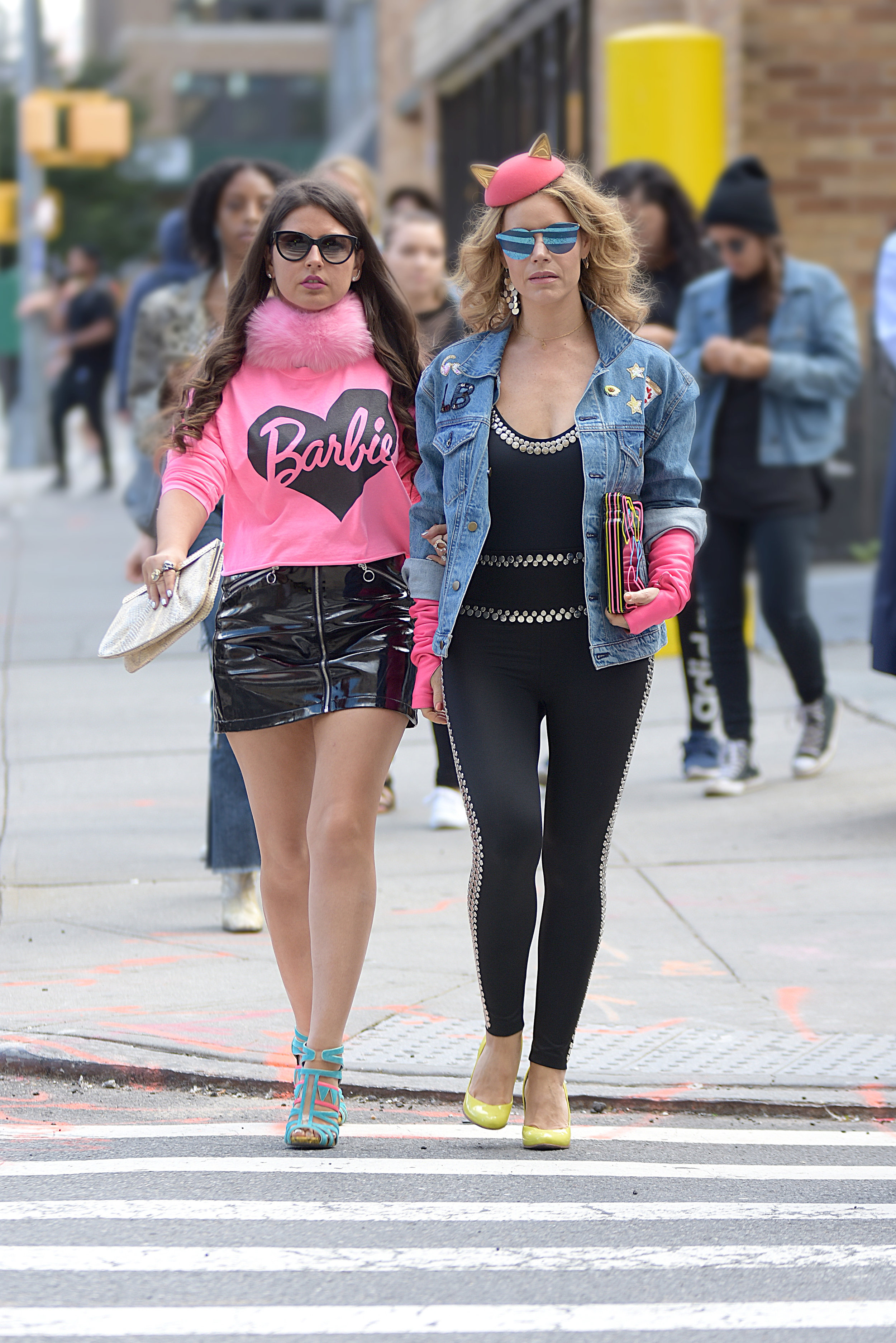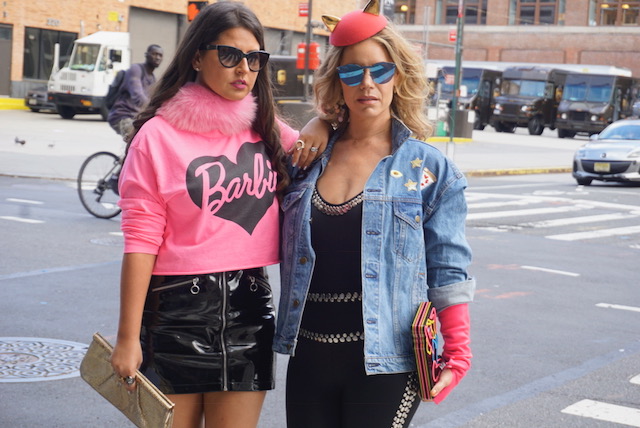 Despite the obvious superficial trappings of such an environment, I have to say that I was so uplifted by how nice and friendly most people were. We were all teetering in our stilettos on common ground. I met a lot of really interesting and cool people, exchanged deets and ideas, hung with fellow bloggers, and got to be a part of an atmosphere where the freak flag is celebrated and encouraged. It was very exciting. I thrive on creativity and being part of the creative community. I felt like I was amongst my peeps. Sitting front row at so many shows was such a treat; I'm sooooo appreciative of all the gracious and overly accommodating PR teams and photographers who were so helpful to the Blaga team. Smiles and great attitudes are the best accessories😀. Positive energy is always in style. I went with open eyes, a curious mind, straight posture, and some heavy swag. If there was anytime to bring some sass, it was then! The boundary less mood and lack of judgment of the wacky felt like home to me. I've always been told I'm "out of the box", a phrase I hate. Don't label me a renegade, that's still a label. It serves no purpose. Hanging amongst thousands of people who wouldn't be caught dead in a box rocked. I promised myself awhile ago I'd find creative people, my people, and collect them. Well, they were gift wrapped for me at Fashion Week. Even if you connect with someone for two minutes, so what, it's still a quality two minutes. Quality minutes build a quality life. Absorbing innovation gets the wheels going. Create anything, just create. Don't wait to do something because you could die tomorrow. Do it because you could LIVE tomorrow‼️.
PS- Lady Blaga was magically transformed from a minivan driving mom into a glamour puss by my unbelievably loyal glam squad. Karla and Brittany are beauty magicians. Not only are they the sweetest, most supportive comb and brush wielding cousins in the biz, but they are abnormally accommodating. As in, they came to my home at 6 AM. That's simply an unacceptable time. I've known Karla of @kbelloorganichair for ten years. If anyone has a front row seat to my journey, it's her. She's been there as a stylist and friend every step of the way. I'm not kidding when I say none of this would have happened without her making me feel great. Brittany is the reason for the term "makeup ARTIST". Love these girls with all my heart❤️
Go be beautiful, both inside and out. That's a direct order, given with love and support. Read on for more of the front lines of fashion...
DAY ONe
Galtiscopio spring 2018
What a way to kick off my week, by sitting front row to view the beautiful and impressive collection at Galtiscopio. This is the show of kitty cat hat and Blaga denim jacket fame😜👏🏻. I purchased that hat many years ago. The one and only time I wore it,
A) People made fun of me. Fuck them; who's laughing now?
B) It kept falling off my head, driving me crazy.
I had a string put on it literally the day before fashion week. Thank you to my incredibly talented tailor, Letitia of Bashert Designs, for enabling me to get my purr on🐱👑🕶. Letitia has bailed me out of many a fashion emergency😱😉. The hat was a hit amongst the fashion forward, and it was unique and fun to wear. The team at Galtiscopio could not have been more welcoming. The atmosphere was so alive and abuzz with excitement. The collection had vibrant, flowy silk pieces. Very feminine and sexy dresses with wonderful crystal detailing. The rich colors were very inviting. There were some hot, fun oversized t-shirts that would look great as minidresses with opaque black tights, or worn over leggings and boots with a boyfriend blazer. My ultimate salivating over piece was this long, silver open jacket. I went nuts for it. It had a sheer quality that let the piece breathe in its movement and statement. It almost felt like a robe, and I'm all about the robes now. It was so badass and rock and roll. It must be worn on a stage. Need!

I loved this metallic sheer one shouldered top with tailored black slacks. The collection was entirely realistically wearable. I mean, is anyone really wearing the Big Bird inspired ball gown, seen on the runway, to a bar mitzvah??? Functionality is important. I loved the live musical acts that kicked off the show. A great move to create a lively mood. Ray J has a great voice 🎤.
My favorite moment was when the designer, Ying Lau, came out at the end. She seemed so humbled and grateful. It's a joy to see people work so hard, and watch them revel in their ideas be brought to fruition. I was honored to be a part of that for this woman. Good for anyone that works hard and creates!! Clap for them 👏🏻.
Thank you, Galtiscopio, for such a beautiful experience. I hope we meet again, especially on my body.
day one
concept korea spring 2018
Ok, MAJOR‼️. While all of Fashion Week is so exciting to be a part of, it's no secret that the events held in the main location have amped up adrenaline. Rolling into the epicenter of NYCFW is a sight to behold. It's a convention of colors, creativity, giant balls, and people screaming for attention while trying to look like they couldn't give two shits. There are clusters of photographers on street corners, poised and ready to capture the fierce and fabulous. I was so appreciative when any photog stopped me; this spared me from looking like a giant unnoticed asshole, who just plopped some insanity on her head as she ran out of her house in New Jersey. Imagine prancing around with a nutso hat/headpiece and no one gives a crap. EEK. So thank you to the camera peeps for making me feel like part of the gang🙌🏻😎🎩. All my faves are credited below ❤️.
The mood before Concept Korea was rocking! It was clear upon entrance that this show smacks of gravity and importance. It was legit Devil Wears Prada. The goal is to showcase Korea's incredible well of talent and design, choosing new designers each time. I love this idea; if you're talented, join us, and we will get you out there. I was psyched to see two designers bust their shit. Lady Blaga was invited to this show because my beyond talented and lovely photographer, Rachel Lee, who is a chief photographer for Concept K. All those stunning pictures you see on my IG and the blog, it's all Rachel. She is a marvel. I've never met a sweeter, more humble, more focused woman. She works so quickly, and with the purest intention. Her eye is magical. Her photos make me feel beautiful. She is generous and gracious, and rolled out the red carpet for me. Rachel, it's all you, Gurl. Oh, and if anyone tried to launch a shade rocket at us that day, we were like ,"um, yeah, so we know Rachel." Squad‼️
I genuinely went nuts over the entire LIE collection. I'd wear every single piece. It was so bright, colorful, clean, and chic. The colors were girly, while making a very strong "fuck with me at your own risk" statement. There was a sexy effortlessness to the designs. I loved the relaxed, flowy vibe. LIE incorporated a lot of well placed words on the clothes, even on the faces of the models. Genius. The models' eyebrows were covered with the words "perfectly imperfect". I saw this being prepped backstage prior to the show, and I went crazy. This is my dream, to inject smart words absolutely everywhere. Everywhere. There is no reason fashion cannot read as intelligent. Thought provoking. Women are both beautiful AND smart. LIE honored that. I felt that this designer was truly a champion of females. Thanks, Bro!! The second collection, Greedilous, was a feast on the eyes. Totally different mood. LIE was clean, this was a visual explosion. Intricate patterns. "Don't ever accuse me of being feminine" florals. Fitted bright red rock and roll flared suits. Loved the male models rocking these looks too! Despite the flowers, the cuts somehow made certain pieces hotly unisex. In the swag bag, I was excited to receive an oversized Greedilous t-shirt. A cool guy could easily rock it, just as I can, by making it fun and sexy with black tights, and most likely a bowler hat, making it a minidress. Throw on a leather jacket or a blazer, and your statement t shirt just gave you an outfit. Yeah, Son. After the show, I met the Greedilous designer backstage. She was so sweet! I love watching others succeed, especially when they're nice (when they're not 🖕🏼🖕🏼🖕🏼). Out of all the colorful characters I met at this show, my all time faves were Jean and Valerie, the Idiosyncratic Fashionistas. These broads are in their 70's. They started a fashion blog ten years ago for older, bolder women. Yasssss‼️. I zeroed in on them immediately. Their headgear was wilder than mine. Ladies after my own heart! They were so nice and encouraging. I love what they're doing, and what they represent. Be on stage, no matter your age. Rock it until forever. No one ever has to fade into the background. Ever. Make the world understand your relevance. There is endless fun to be had. Keep going. They were the perfect people to represent my feelings from Concept Korea; innovation and originality to the max. Wit, intelligence. Replacing Tits and Ass, to Wits and Sass(that's a Lady Blaga original). You'll one day be wearing that on an oversized t shirt.... Love, Lady Blaga